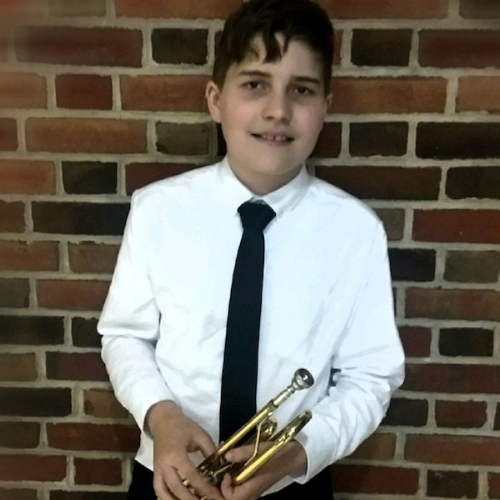 Isaac Bennett, son of Tabitha Shimer, is the BMF CARES Spotlight for May, which is also Brain Cancer Awareness Month. He is currently a student at Hollidaysburg Junior High School and was recently announced to be in remission.  He was diagnosed with pylomixoid astrocytoma when he was 9 years old.
Isaac's mother shared his story:
Isaac Bennett is 14 years old.  His nickname is Isaac Newton.  He was diagnosed with pylomixoid astrocytoma when he was 9 years old.  He has undergone 2 craniotomies, multiple chemotherapies and proton radiation in the span of 5 years.  Remarkably Isaac remains a successful academic.  He is known to work hard, is quick witted and always kind.  Recently, he was officially announced in remission. 
Isaac has a cat he adores and spoils by the name of Salvador and a chocolate Labrador by the name of Penny May Hem who is full of energy. 
Isaac attends Hollidaysburg Junior High School.  He plays the trumpet well for his school and for the band of Hollidaysburg.  He is in the Boy Scout troop 32 of Hollidaysburg and has been in scouting since he was 6 years old.  Isaac has a natural artistic talent and draws very well in his spare time.   
When Isaac graduates from High School he is going to attend a good college and study chemistry to become a chemical engineer working with medicine.  He said his goal is not to make a lot of money or be famous, but to make a difference in medicine for the better.
Isaac and his family are requesting that the Brian Morden Foundation donate to The Turtle Foundation, a foundation Isaac co-founded with his mom. The foundation's mission is to aid children and their families while fighting brain cancer.
More information about Brian Cancer Awareness Month can be found at https://www.aacrfoundation.org/Pages/may-is-brain-cancer-awareness-month.aspx. Isaac's The Turtle Foundation has a Facebook page where more information can be found.
The Brian Morden Foundation will send a check for $1000 to The Turtle Foundation in honor of Isaac.