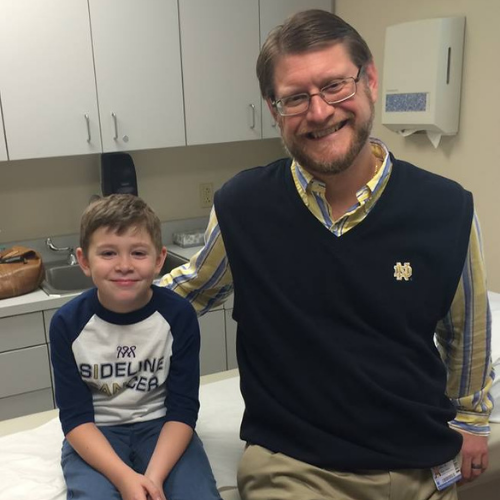 In March of 2014 Dominick DeVecchis was diagnosed with a rare form of childhood cancer called Osteosarcoma**. He was 6 years old. It all started with a limp and several trips to the doctors. After x-rays of the lower leg we were told he had growing pains and they would go away. We waited another 2 or 3 weeks and finally took him to an Orthopedic doctor. After an MRI of the entire leg, the tumor was located – Osteosarcoma of the right distal femur.
The following week we were in the office of Dr. Kurt Weiss, an Osteosarcoma survivor himself. He is also an Orthopedic Oncologist and Clinician Scientist; we could not have been in better hands for surgery. At Children's Hospital of Pittsburgh, we met Dominick's Oncologist Dr. Scott Maurer, and he laid out the treatment plan – Neoadjuvant chemo therapy – 10 weeks of chemo before limb salvage surgery and another 18 weeks of chemo after. The road ahead seemed unbelievable and impossible. We faced the fact that not only is this treatment horrible, but we could lose our son in the end.
Our family pulled together and Dominick began treatment. All of the usual things happened. Dominick lost his hair, he threw up, but he kept his spirits up. Dr. Maurer told us that there would be set backs that he would have and weeks that he could not have treatment because of the side effects.
After the first 10 weeks it was surgery time. We had 3 to choose from: Limb salvage surgery, Rotationplasty, and finally amputation. We chose Limb salvage surgery during which they would remove the diseased bone and knee and replace it with a Mega expandable implant. The surgery was a success and the tumor was completely removed. Dominick had two weeks to recover and then he was back into Chemo.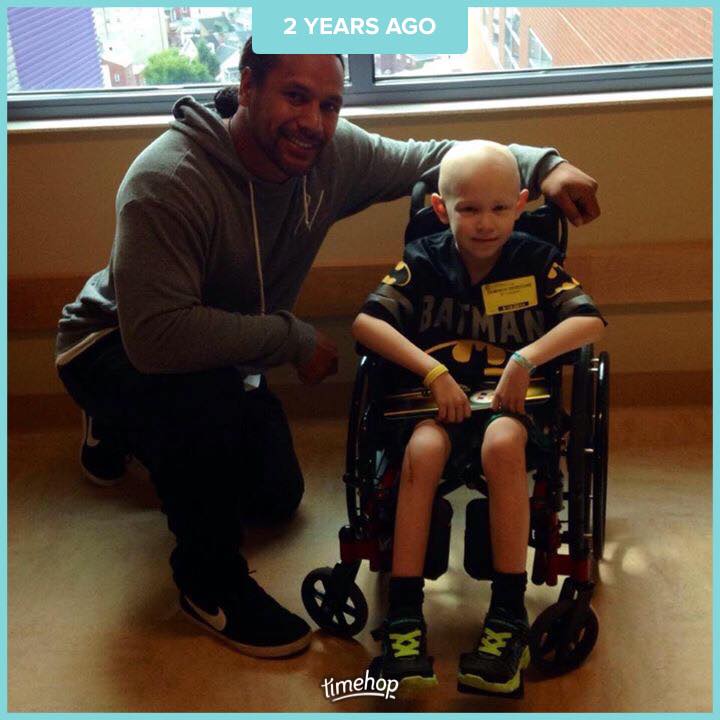 The second round of chemo would prove to be more difficult. He began to lose his hearing because of the chemo called Cisplatin and he grew weaker and tired. However, Dominick always kept his chin up and finished this Chemo on time even though the doctors said it would not happen. His last treatment was the end of October. Next came the dreaded "scans."
Osteosarcoma spreads to the lungs. This is what Dr. Weiss's research is about – why does it start on a long bone and spread mainly to the lungs? There is no answer, but it does. Those who have visible lung metastases at diagnosis only have a 30 percent chance of survival and those who do not have a 70 percent. Dominick did NOT have any lung metastases at diagnosis, and after treatment ended his lungs were still clear.
Dominick remained in a wheelchair until January 2015; he also missed the second half of Kindergarten and half of 1st grade. He has to wear hearing aides, unfortunately, for the rest of his life. He went every 3 months for scans and to have his leg checked and sometimes lengthened.
Soon two years passed and he moved to 4 months and then 6 months and we were able to put some of the nightmare behind us. In March of 2017 he outgrew his implant so he had to have it replaced. It was painful and brought a lot emotions and bad memories, but again he pulled through with flying colors. In the future he will have a permanent replacement and another surgery to replace the stems in his bones but he should have a few years without any.
Dominick is 3.5 years cancer free and healthy, but the emotional scars are there. His friends run and play, they participate in sports and he cannot do any of that because of the implant. He stands back and watches and eventually they go on without him. We encourage him to find his nitch, swimming, golf or the arts. He will figure it out, but in the meantime he is healthy. What more could we ask for?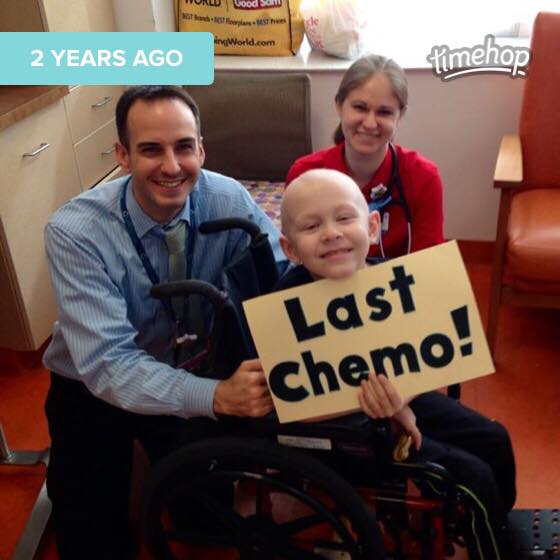 When you are told "your child has cancer" your world changes. You no longer have any control; you have no idea which way to turn or what to do next. That is where we were (I call it the fog) when my doorbell rang and I met Dawn Morden for the first time. She was the first to say "you're not alone" … we (The Brian Morden Foundation) will walk this path with you, and they have been there every step of the way. My family could not be more grateful for everything the Brian Morden Foundation has done for him, and our other children who are deeply affected by this as well. It makes it so much easier for families who are given a devastating diagnosis like cancer to have people like Dawn Morden and the BMF to help them through. Thank you.
**From the American Cancer Society:
Osteosarcoma (also called osteogenic sarcoma) is the most common type of cancer that starts in the bones. The cancer cells in these tumors look like early forms of bone cells that normally help make new bone tissue, but the bone tissue in an osteosarcoma is not as strong as that of normal bones.
Most osteosarcomas occur in children and young adults. Teens are the most commonly affected age group, but osteosarcoma can develop at any age. See https://www.curesarcoma.org/patient-resources/sarcoma-subtypes/osteosarcoma/ or https://www.cancer.org/cancer/osteosarcoma.html for more detailed information.