Congratulations to our
2023 Altoona Area School District Scholarship Recipients
!
Brian Morden Memorial Scholarships
Emily Shehan
Jack Kuhns
Dawn Morden Memorial Scholarship
Angela Petrarca
Erin Dodson Memorial Scholarship
Kelly Terrebonne
EWS Gene Fusion Analysis to Facilitate Immune Targeting of Ewing Sarcoma
Dr. Peter Anderson, MD talks about his work in the field of pediatrics.
Objective: To build an environment which allows acquisition and analysis of Ewing Sarcoma (EWS) cancer fusion gene sequence data, especially in frame analysis mRNA> polypeptide data for prediction of immunogenic potential of EWS-FLI1 and EWS-ERG cancer-specific sequences which span the fusion gene breakpoints. This data will begin to answer questions about common versus unique EWS-FLI1 patterns at the protein level and binding fit (or not) in relation to a EWS patient's HLA type.  Positive results then can be used for testing of ongoing immune responses using cancer-specific polypeptides in skin tests of delayed type hypersensitivity (DTH) in EWS. If +DTH is seen, this information could be visually useful for patient and pediatric  oncologists to predict anti-EWS efficacy for immuno-oncology release agents (e.g., checkpoint inhibitors and anti-CD47) and future personalized mRNA vaccines.
Rationale:  Better absolute lymphocyte recovery during chemotherapy Ewing sarcoma (EWS) chemotherapy is associated with significantly better survival. Lymphopenia is associated with worse survival in sarcomas.  This proposal seeks to improve EWS survival using a data base to allow new tools to investigate amplifying effective immune responses against EWS.
Specific Aims:
Create a database for EWS gene-fusion data
We have exciting and new preliminary EWS-FLI1 and EWS-ERG genetic data on >30 patients. A database is needed to do chart review and share results (publication). The database will have information concerning clinical characteristics, EWS-FLI1 and EWS-ERG gene fusion data, and corresponding amino acid sequences of each fusion gene mutation that spans the breakpoint. If available, HLA-typing data (e.g. from Tempus or Caris) will also be entered into the database.
Analyze patterns of EWS-FLI and EWS-ERG gene fusions and cancer-specific corresponding polypeptide sequences that span the breakpoints.
This information will be used to generate tables and figures for an article that shows 3 patterns of EWS-FLI gene fusion (exon 7>7, Exon 7>6 and "other") and EWS-ERG patterns, if any. This publication will acknowledge the Brian Morden Foundation funding and will amplify efforts to get additional data for future EWS immuno-oncology research and additional funding.
Addressing the Unique Challenges of Ewing Sarcoma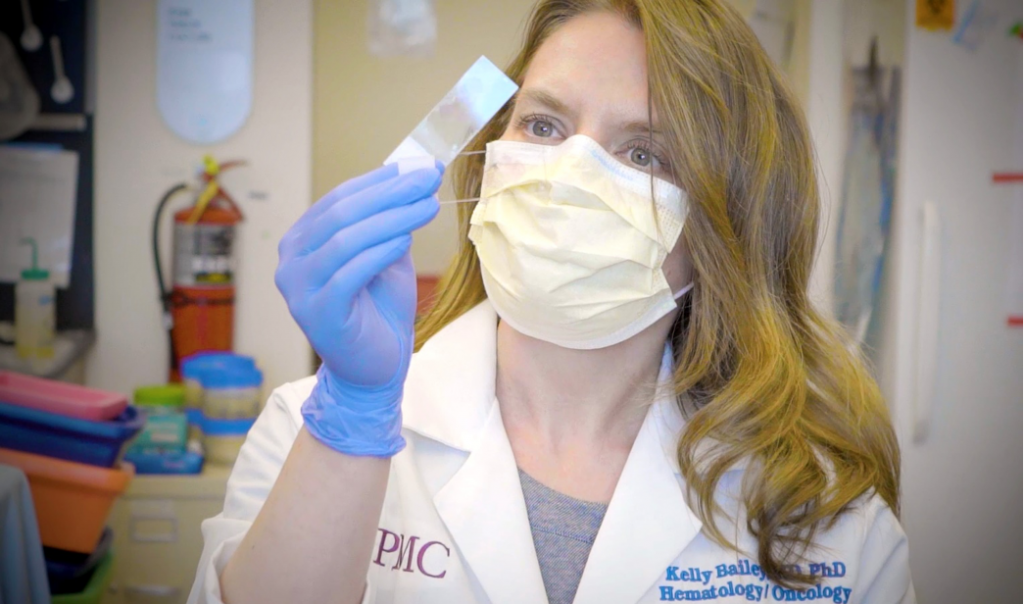 Physician-scientist Kelly Bailey, MD, PhD, pursues cutting-edge studies to uncover better treatments for kids battling a rare, aggressive cancer
Years ago, when Dr. Kelly Bailey was a pediatric oncology fellow, she met a 15-year-old diagnosed with Ewing sarcoma, a tumor of the bone or soft tissue. The cancer had spread throughout the teen's body. The prognosis was almost certainly terminal. Yet, somehow, after only three months of chemotherapy, the young woman showed no evidence of disease. The physicians were stunned. How had such an aggressive cancer responded so quickly to treatment? In this experience, Dr. Bailey recognized how little we really know about this disease. Since then, she has dedicated her career to understanding the Ewing sarcoma biology to attempt to develop better, more targeted therapies for patients with Ewing sarcoma.  While this young woman relapsed several years later and ultimately lost her battle with Ewing sarcoma, her story remains the impetus for Dr. Bailey's steadfast dedication to defeating this lethal disease.
Problem:
Ewing sarcoma is an aggressive primary bone cancer that mainly affects adolescents and young adults. Sadly, relapsed or refractory disease that fails to respond to standard treatment is especially lethal, with an unacceptable survival rate of only 10-30%.
Federal funding for childhood cancer research—including Ewing sarcoma research—remains woefully inadequate. Childhood cancer is the leading cause of death by disease for kids under 19 here in the U.S.; yet childhood cancer research accounts for only about 3.94% of the National Cancer Institute's annual budget. With limited funding available, physician-scientists often lack the resources they need to pilot new therapies, gather substantial data, and develop new protocols for care.
Solution:
With philanthropic support, the physician-scientists in Dr. Bailey's lab can using cutting-edge technology, including mice harboring human immune cells, to characterize and understand ways in which a patient's immune cells may respond to or "attack" Ewing tumors cells differently around times of DNA damage (chemotherapy, radiation therapy). The ultimate goal of this work is to identify and test more effective combination therapies for those battling this unforgiving disease.
Dr. Bailey has earned national recognition as a thought leader in oncology research. She is one of only 10 investigators nationally leading the New Agents for Ewing Sarcoma Task Force of the Children's Oncology Group (COG) and continues to garner attention in the field for her innovative work advancing our understanding of the sarcoma tumor microenvironment.
How You're Making a Difference:
Dr. Bailey cannot do this work alone. The research is complex and expensive, with ever-evolving circumstances with which to contend. Amid an increasingly competitive federal funding environment, the sort of high-risk, high-reward studies necessary to make meaningful strides in childhood cancer research are often overlooked in favor of more traditional, established projects. If we're going to improve treatment and outcomes for patients, progress will be driven by philanthropists, dedicated families, and clinicians from across the country working in concert to rapidly fast track what works to treat tumors and pilot safer alternatives to current therapies.
As we work to advance research and treatment, the Brian Morden Foundation is helping to support large-scale studies of the Ewing tumor immune landscape before, during, and after the tumor "seeing" DNA damage (chemotherapy/radiation). This knowledge will help better understand what immunotherapeutic interventions may be beneficial for patients with relapsed Ewing sarcoma.
We remain grateful for the generous partnership of donors who help to accelerate and expand research, bringing cures to kids faster.
 The statistics are staggering. In 2018, an estimated 15,590 children were diagnosed with cancer in the United States. And despite this, less than 4% of the federal government's total funding for cancer research is dedicated to childhood cancers each year. This is why your support is so important. By sharing statistics and the facts about childhood cancer as well as the stories behind those numbers, researchers can move closer to innovative and specialized cures. It also helps family members better understand what their loved one is going through and what options are available to them. The Brian Morden Foundation is a charity partner of Alex's Lemonade Stand, both based in Pennsylvania. Choose learn more to find out how the BMF supports additional research through funding projects vetted by ALSF.
Learn More
CHILD CANCER STATISTICS & INFORMATION
Some disturbing facts about childhood cancer (from CureSearch.org, ALSF, and/or Candlelighters.org):
Every day, approximately 250 kids around the world die from cancer.
In the US, cancer is the #1 disease killer of children, cutting short the lives of more children under the age of 20 than any other disease.
Every school day, 46 young people, or two classrooms of students, are diagnosed with cancer in this country. More than 12,500 children are diagnosed with cancer each year and over 40,000 children and adolescents are currently being treated.
The incidence of childhood cancer has increased every year over the past 25 years.
The federal government's budget for childhood cancer research is only about 4% of all cancer research funding.
The potential years of life lost to childhood cancer and the potential years of life saved by treatment exceed all other cancers with the exception of breast cancer.
Childhood cancer is not related to lifestyle choices as it is for many adult cancers. There are no screening tests for most childhood cancers.
There are at least 16 different types of childhood cancer including ALL, ALM, Ewing's Sarcoma, Brain Tumors, & Lymphomas.
Most children cannot be treated at a local hospital; families must face the disruption of traveling for treatment.
Some signs of childhood cancer are:
Continued, unexplained weight loss
Headaches, often with vomiting, at night or early morning
Increased swelling or persistent pain in bones, joints, back, or legs
Lump or mass, especially in abdomen, neck, chest, pelvis, or armpits
Development of excessive bruising, bleeding, or rash
Constant infections
A whitish color behind the pupil
Nausea which persists or vomiting without nausea
Constant tiredness or noticeable paleness
Eye or vision changes which occur suddenly and persist
Recurrent fevers of unknown origin
Approximately one in 330 children will be diagnosed with cancer by age 19. Although it is unlikely that your child will develop cancer, as a parent, you need to be aware of the symptoms of childhood cancer. Observe your child for any sudden, persistent changes in health or behavior as listed above. Since most of the symptoms of cancer can also be attributed to benign conditions, the diagnosis of cancer can be a long process. You must trust your own instinct and work as a team with your doctor, using your knowledge of your child and your doctor's knowledge of medicine to protect your child's health.